Ever wonder what a good credit score is? Of course, we all do. It's one of the most important numbers in our adult life, whether you agree with it or not.
You can check your score at a variety of places that offer free FICO credit scores but how do you really know whether your score is good or bad? Is a 700 good? Or do you need an 800? How's a 600?
I think it comes down to what you plan on doing with that number.

FICO Credit Score Range
FICO credit scores range from 300 to 850, with the average being 680 – 700, depending on which of the three credit bureaus you ask. FICO stands for Fair Isaac Corporation, which is the company that created the FICO credit score formula. I wrote an entire Foundation article on FICO credit scores if you want a primer on the subject.
You will almost always be able to find someone to give you a loan regardless of your credit score. You might have to put down a larger down payment and pay a higher interest rate, but even if you have the world's worst score of 300, someone will give you a loan – you'll just pay dearly for it.
So, what's a good score then? It depends on the loan you're trying to get.
Score Ranges
Now that we know the score ranges from 300 to 850, we need to nail down what's a good credit score and what's not. Here is the scale that Credit Karma uses (click to view the full version):

Based on that range, it appears that the grades correspond, roughly, to:
750 – 850: A
700 – 749: B
630 – 699: C
580 – 629: D
300 – 529: F
If that's not enough data for you, here's what myFICO lists as sample FICO scores and potential interest rates:
30 Year Fixed Mortgage Rates
These are sample rates on a $300,000 home mortgage (as of May 10, 2012).
| | | |
| --- | --- | --- |
| FICO Score | APR | Monthly payment |
| 760-850 | 3.514% | $1349 |
| 700-759 | 3.736% | $1387 |
| 680-699 | 3.913% | $1417 |
| 660-679 | 4.127% | $1454 |
| 640-659 | 4.557% | $1530 |
| 620-639 | 5.103% | $1629 |
On mortgages, it doesn't really matter if you have a 761 or the perfect 850. According to Fair Isaac Corporation, the creator of the FICO score, the two are pretty much the same when it comes to mortgage loan interest rates. It's a gross simplification but the point is you don't need a perfect score and it's almost impossible to get a perfect score.
Let's look at auto loans:
36 Month Auto Loan Rates
These are sample rates on a $25,000 auto loan (as of May 10, 2012).
| | | |
| --- | --- | --- |
| FICO Score | APR | Monthly payment |
| 720-850 | 3.589% | $734 |
| 690-719 | 5.012% | $749 |
| 660-689 | 7.204% | $774 |
| 620-659 | 10.936% | $818 |
| 590-619 | 16.031% | $879 |
| 500-589 | 17.183% | $894 |
According to Fair Isaac, the ranges for auto loans and FICO scores is even wider. If you have a 720 or higher, you can expect to pay the lowest rates. Again, it's a gross simplification but I think you get the idea.
How is Your Credit Score Calculated?
Your credit score is based on a variety of factors but it comes down to five basic areas to focus on when you want to get a good credit score: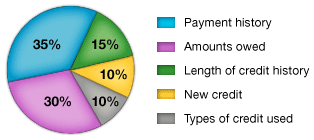 Payment history: 35% of your score is based on your payment history, that is your history of on-time payments (and any misses, defaults, past due items, etc.)
Amounts owed: 30% is based on the amounts you owe, what types of accounts you owe them on, credit utilization, and other debt related items.
Length of credit history: 15% is based on the length of your credit history, how long you've had certain types of accounts and time since activity.
New credit: 10% is based on the amount of new credit items on your account – recently opened accounts, recent hard inquiries, time since most recent open, and time since recent inquiries.
Types of credit used: Finally, the last 10% is based on the number and types of accounts you have – revolving, installment, retail, etc.
As you can see, the most important factors involve your payment history and the amounts you owe. If you're going to focus on something, those are the two to focus on.
If you aren't getting a loan in the next year, knowing your score is useful but not immediately valuable. If it's low, as in outside the first three tiers, then I'd work to try to improve it. If you are getting a loan, knowing your score is crucial because you want to know if you're a few points shy of the next tier. If you're close, you want to work to get yourself into the next tier so you can pay a lower interest rate.
(Photo: thetruthabout)